PUBLIC TRANSPORT
A good public transport system is very important for a growing city. The more diverse the public transport alternatives are, the easier it gets to travel within and out of the city. Recognizing the importance of public transport, TMD Lippo Village has been continually looking to improve the facilities and means of transport which we share:
LIPPO VILLAGE SHUTTLE BUS
Lippo Village has 2 executive shuttle bus services:
Travelling from cluster to cluster in Lippo Village.
The internal shuttle bus begins operating from 06.00am.
At 30 minutes interval Lippo Village terminal to and from Lippo Village Central
The rate is IDR 6,000 (six thousand rupiahs)


Internal Shuttle Bus Schedule: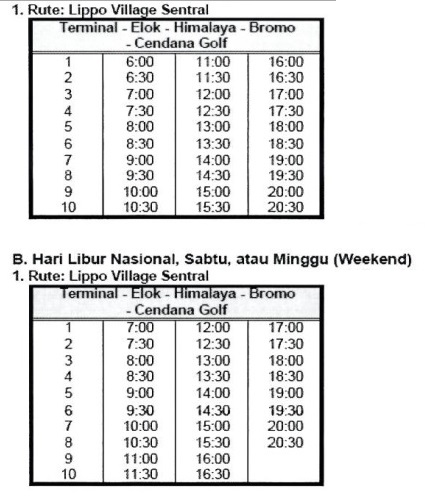 To and from Lippo Village to several locations in Jakarta.

External shuttle bus service begins operating 05.30 am.

The service is available every hour and travels from Lippo Village terminal to Central Jakarta locations.

Using a point-to-point stop system to ensure comfort and punctuality for users.

The rate is IDR 22,500 (twenty two thousand five hundred rupiahs).

External Shuttle Bus Schedule: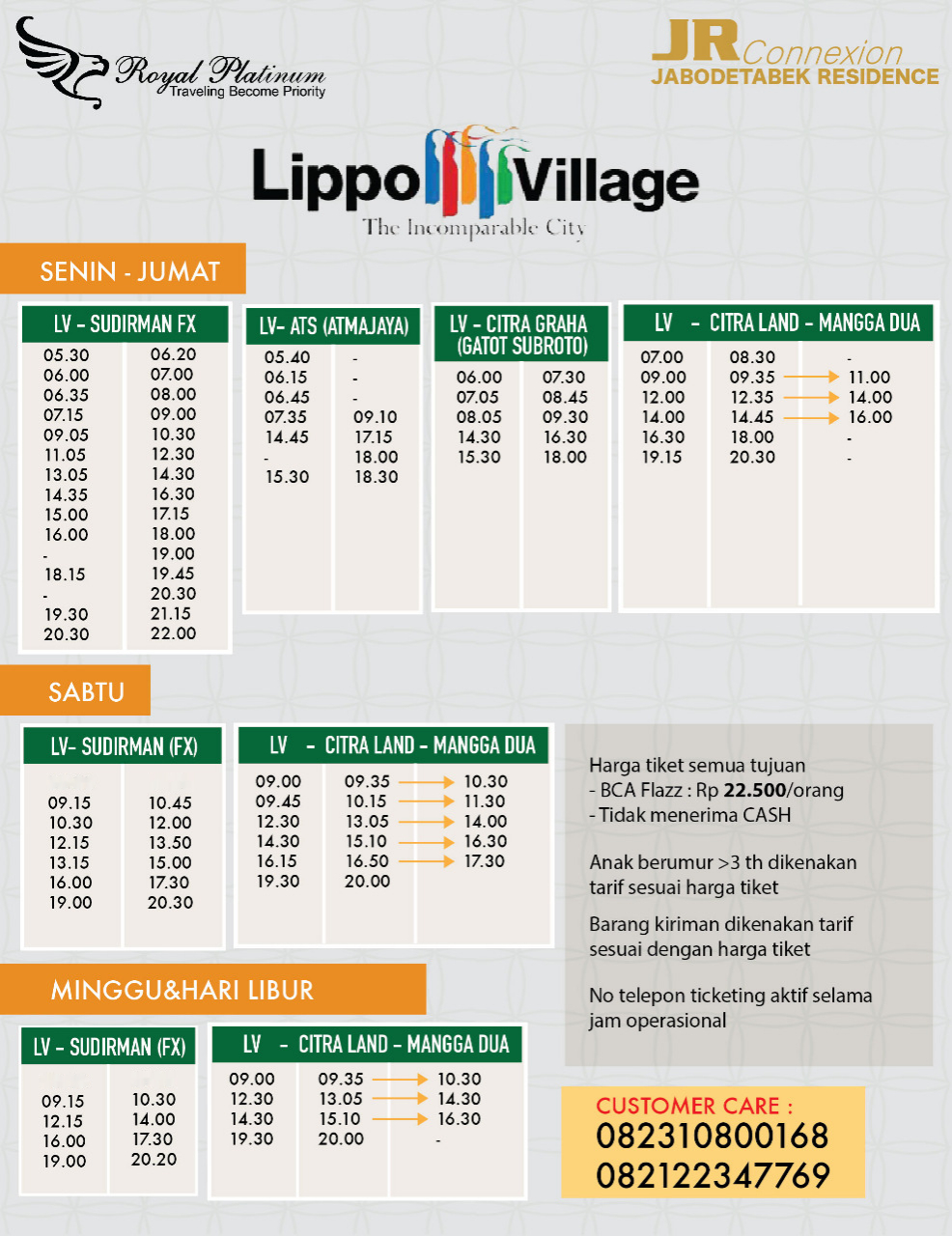 Trans Jakarta Route T11
Lippo Village residents can now enjoy easy access to Trans Jakarta bus Poris Plawad-Senayan Roundabout via Karawaci route (route T11).

The Trans Jakarta bus has several stops in Tangerang with the main stop in Lippo Village at Hypermart Lippo Village North. The current rate is IDR 3,500 (three thousand five hundred rupiah).
Damri Shuttle Bus Services
Lippo Village residents and surrounding community now have easy access to Damri Shuttle services to and from the Soekarno-Hatta Airport, accessible from Hypermart Lippo Village North.
Damri shuttle departs every hour from 4 AM to 8 PM.
The rate is IDR 40,000 (forty thousand rupiah)